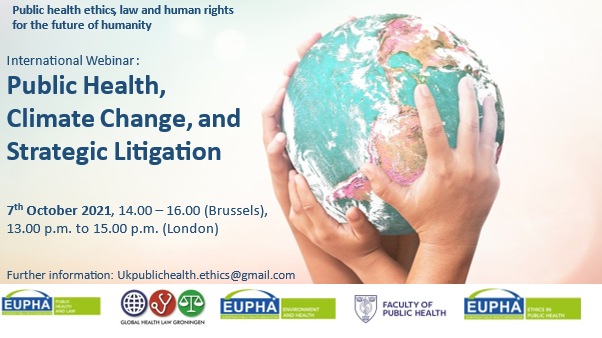 The Webinar is organised by the Global Health Law Groningen Research Centre, the UK Faculty of Public Health, the European Public Health Association (EUPHA) Law and Public Health section and the Environment and Heath section, in collaboration with a range of other partners.
The session will include presentations and a panel discussion by distinguished legal scholars, policy makers and public health practitioners exploring the challenges and opportunities for advancing arguments in strategic litigation, in particular its health, environmental and human right dimensions.
Speakers and panellists include Dr Maria Neira, Director, Environment, climate change and Health, WHO, Geneva; Marlies Hesselman, Faculty of Law, University of Groningen; Irmina Kotiuk, Senior Lawyer, Client Earth; Richard Harvey, Legal Counsel, Greenpeace International; Professor Sir Stephen Holgate, MRC Clinical professor of immunopharmacology, University of Southampton , and Dr Marina Romanello, Lancet Countdown on Health and Climate Change.
The session will provide opportunity to share, reflect and consult on the:
Opportunities and trends for strategic litigation on air pollution, climate change and public health;
Opportunities for drawing from health arguments relating to climate change in building legal human rights claims;
Opportunities for collaboration and strategic partnerships between legal scholars, academics, public health practitioners, advocates and policy makers in tackling climate change; and
Learning both from (past) cases and for (pending) climate cases, and how health arguments may be better build and integrated in legal argumentation and advocacyFurther information: